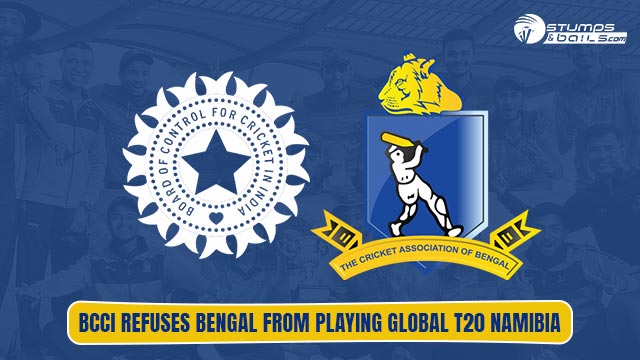 The Cricket Association of Bengal (CAB) had named a squad for the T20 league in Namibia but now they won't be able to participate in the league as the BCCI has declined the request for the No Objection Certificate.
The senior Bengal cricket Association had named its squad for the Global T20 Namibia tournament which is set to be held in Namibia in September, but the BCCI has spoiled their dreams by not giving the NOCs for the players to participate in the league.
The Global T20 Namibia league was organized by an associate member nation Cricket Namibia with no franchises or ownership involved, the CAB taught of getting the NOCs and letting the players participate in the league.
But now with the current situation where the BCCI is declining the NOC, the CAB has informed the organizers, who were on behalf of Cricket Namibia that the CAB can't participate in the league.
Even though the CAB was not available for the tournament, Cricket Namibia will go ahead with the league along with the other two teams. Cricket South Africa's domestic franchise Titans, the Pakistan Super League-based franchise Lahore Qalandars and the Namibia national team, the two teams from South Africa and Pakistan have accepted and agreed in principle to participate in the league if everything goes according to the plan.
The teams are expected to arrive in Namibia by the end of August with a Nine-day schedule. Where this tournament would give the National Namibia cricket team to prepare themselves for the upcoming matches of CWG league 2 ODI Tri-series in Papua New Guinea in September. Then the team will travel to Australia in October for the T20 World Cup and the Namibia cricket board feels that this would be a better opportunity for the players to test themselves before the T20 World Cup.
The CAB also hoped of getting some game time for the Bengal players before the domestic season starts but with the rejection of NOCs from the BCCI, the Bengal officials have to search for other options to get proper preseason before the Domestic season starts.