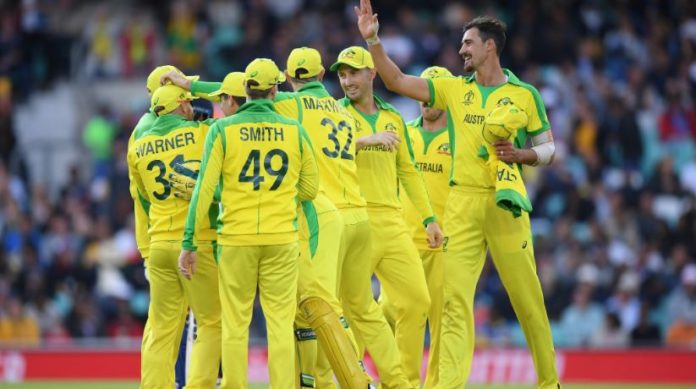 Aaron Finch's magnificent 153 and a quick-fire 73 from Steve Smith helped guide Australia to reach a total of 7-334, although some disciplined death bowling from Sri Lanka deprived the Aussies of total that had threatened to exceed 350.
Sri Lanka exploded out of the blocks as Kusal Perera and Dimuth Karunaratne each made 50 inside 14 overs. However, wickets at vital times throughout the innings the Sri Lankan chase to hand the Australians a fourth victory from five games at this World Cup. Australia bowlers bowled very well after the wicket of Sri Lankan captain got out. Starch was magnificent with his inswinger with 4 wickets.
Sri Lanka meanwhile suffered its second defeat after two consecutive washouts to severely dent its chances of progressing to the semi-finals, Australia goes top of the World Cup table with the win the 2 points.
Aaron Finch – Australian captain:
I thought we were a touch short with the new ball. You want to bowl top of off, but when we were getting hit we had to change our plan and we were a bit slow to do that and lost a bit of momentum. It was nice to see Maxwell bowl well. He had a big boundary to play with, here. We found it tough to get ten overs out of him at Taunton with small boundaries. We have been improving each game. The way we dragged it in the middle overs was impressive. Starc-ey – As soon as he gets a sniff of a new battery, he's all over 'em. He is a world-class bowler and he is doing the business again in an ICC tournament. We will have to assess the conditions and think about the best combination for the game. We have played some really good cricket in patches and there are some areas to improve, which is a real positive.
Dimuth Karunaratne – Sri Lanka captain:
It was a good wicket. There was some seam movement, but it was still a good batting track. We bowled well in the first 25 overs. Then, Finch and Smith batted really well, but we came back strongly at the death. We got a good start with the bat. We couldn't capitalize and when the middle-order came in, they couldn't capitalize either and really couldn't handle the pressure. The Australians are top-class bowlers, but we have faced them before, and we were missing a game plan against them, to be honest. We lost a couple of matches because of the rain. We need to win a couple of matches, and if we can do it, we can definitely be in the top 4. We have got to get to the semi-finals and then take it to step by step until the final.
Aaron Finch – Man of the Match:
It was nice to get a couple of drives away. If my balance is on and gets a few drives, that's the key to my batting. A nice wicket. I've been working on keeping my balance from Ball 1 – not losing my balance. We lost a few wickets on the verge of taking the game on too much, but a couple of partnerships took us deeply. Smith is really good at finding the gap and rotating the strike – looked up at the scorecard and saw he was on 25 – thought he was on 5. He just hits the ball in the gap, and that's a great skill, especially in the beginning of the innings. It's amazing when Maxi has a free rein like that, he can just go all out. Credit to SL, they executed really well under pressure, otherwise, I thought we were definitely getting to 350.