Rishabh Pant has been the toast of the town after his fantastic showing in the 4 match Test series against Australia. He singlehandedly threatened to take the game away from the Aussies even in the 3rd Test at Sydney before he departed for 97. The Aussies were waiting to know the approach he will take while coming into bat in the 4th innings at Gabba.
Pant's show at the Gabba!
Pant took the game head-on and threw a challenge immediately to the Australian bowling attack. His knock of 89 helped India pull off a terrific run chase and ended Australia's unbeaten streak at Gabba, Brisbane. He was hailed as a hero by both the Indian and the Australian media. The Australian coach, Justin Langer felt that Pant's innings was similar to the one Ben Stokes played at Headingly, 2019 in the Ashes.
Also Read | 5 Times When Cricketers Were Drunk On The Field
Pant is now India's first choice wicketkeeper:
Pant finally got an appreciation for his brand of cricket. He is now easily India's first-choice wicketkeeper. Pant is expected to star in the playing XI while squaring up against England in the first Test at Chennai. Everyone thought that Pant had finally got the monkey off his back and there will be no more trolling now. But how wrong were everyone!
Pant was again in the news and this time it had got nothing to do with his cricketing action. It was thanks to a special gesture by Team India when it presented a collectively signed Indian jersey to Nathan Lyon, who played his 100th Test at Gabba, Brisbane. The entire cricketing world applauded India's gesture to present the jersey but it wasn't the same for Rishabh Pant.
The trolls who noticed Pant's signature:
In the signed jersey, fans noticed that Rishabh Pant's signature has a smiley on it. Even Mayank Agarwal's signature had a smiley but Pant's sign stood out for some reason thanks to the smiley next to his signature. One of the fans mentioned that Pant's signature hasn't changed ever since kindergarten. While one of the fans noted that Rishabh Pant's signature on the jersey was slightly different than the one which SG prints on its bats.
I hope they have Lyon a warranty card coz this is the Pant signature that comes on SG bats https://t.co/GFOAIPjj1W pic.twitter.com/OgFVsRoiU6

— Varun Shetty (@varunshetty) January 28, 2021
Rishabh Pant's signature is disturbingly similar to my own.

— Rishabh (@rishabhism) January 27, 2021
I wouldn't be surprised if @RishabhPant17 really has a smiley in his signature. What an awesome character. https://t.co/5A6x1oMlMC

— Tony (@francton) January 28, 2021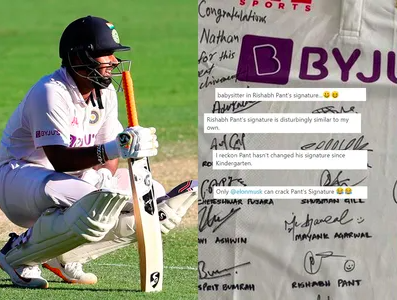 Few fans made their observation regarding Prithvi Shaw and Cheteshwar Pujara's signature. However, most of them were talking about Pant. There were a few baby sitter trolls as well. While many were delighted with his vivacious approach even when it came to signing a jersey.
babysitter in Rishabh Pant's signature…😀😆 pic.twitter.com/AOftpEvU0m

— ඩිලන් (@Anushadilan96) January 28, 2021
Test cricket needs more smiley faces. 🙂 https://t.co/hiqCbBDYzX

— Melinda Farrell (@melindafarrell) January 27, 2021