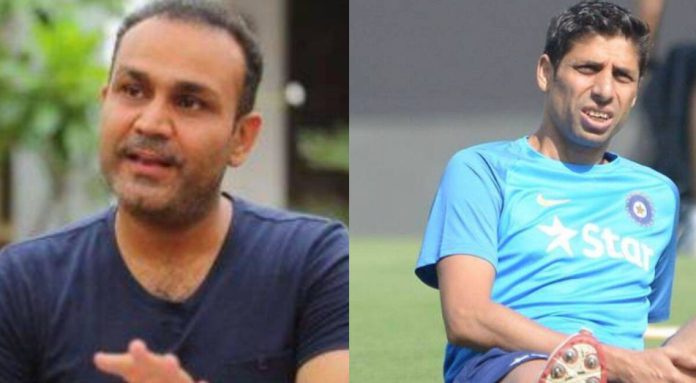 The one name that haunts all the bowlers before the game against India was Virender Sehwag during his playing days. But Sehwag being Sehwag, no matter he is where and doing what, he left no stone unturned to put a smile on the faces of his fans with wit and swag on Social Media.
On Thursday, Sehwag posted a hilarious tweet on his former India teammate Ashish Nehra, where he called him as the candidate who is contesting for UK Prime Minister elections.
Actually, Sehwag shared a screenshot of a post from a Pakistani political commentator, called Zaid Hamid, who was praising Pakistan's javelin thrower, Nadeem Arshad for securing gold at the Commonwealth Games (CWG) 2022.
"And what makes this victory more sweeter is the fact that this Pakistani athlete has destoryed Indian javelin throw hero Ashish Nehra… In the last competition Ashish had defeated Arshad Nadeem…", the political commentator tweeted.
In this tweet, Hamid tried to belittle Neeraj Chopra. But in due process, he misquoted Chopra as 'Ashish Nehra'. Sehwag instantly spotted the mistake and shared the screenshot with his hilarious reply.
Chicha, Ashish Nehra is right now preparing for UK Prime Minister Elections. So Chill 🤣 pic.twitter.com/yaiUKxlB1Z

— Virender Sehwag (@virendersehwag) August 11, 2022
As soon as people saw Sehwag witty reply to Hamid, Netizens starts trolling the Pakistani political commentator for his mistake.
Hahahaha 😂😂
Aur inko Kashmir chahiye kahi Lahore na Dede😂😂

— Virendra Shekhawat (@Virendr03447820) August 11, 2022
Ashish Nehra . . . The one & only javelin throw champion, who used cricket ball instead of javelin . . . 👑

— Hetal Shah (@hetal1968) August 11, 2022
Neeraj Chopra (or as per him Ashish Nehra) participated at the CWG.

This is latest news!!!!

— Bharath Ramaraj (@Fancricket12) August 11, 2022
However, this is not the first time the legendary Indian opener entertained his fans on social media, he does it often. While his commentary during the cricket games is also very famous among cricket lovers.
The Pakistani athlete Nadeem on Sunday created history by becoming the first Javelin thrower from sub-continent to reach 90-metre mark and won the prestigious gold medal at the 2022 Commonwealth Games in Birmingham.
There was a clear rivalry between India's Neeraj Chopra and Pakistan's Arshad Nadeem since both competed with each other in 2016. Chopra created history by winning gold medal for India in 2020 Tokyo Olympics.
While in the absence of Neeraj, Nadeem breached the 90-metre mark to add a gold to his nation's medal tally at the 2022 commonwealth games.