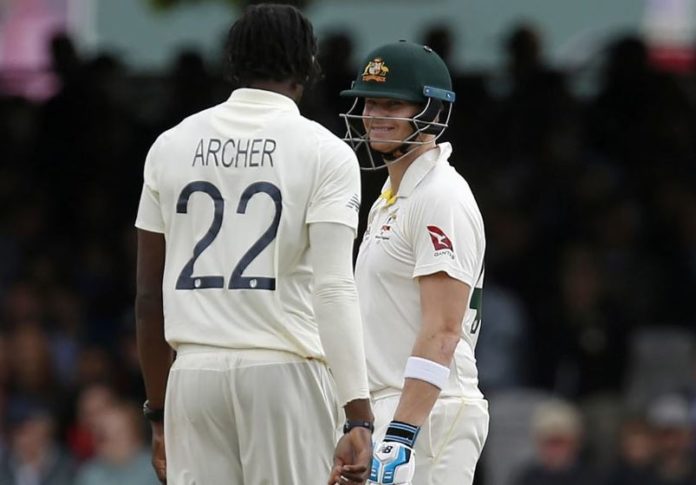 The second Test at Lord's ended in an exciting draw as the rain had the final say. England tried hard to force a result but the Aussie batting hung on to get a good draw and go into the third Test still 1-0 up. The hosts would have been extremely happy with the debut of Jofra Archer as he was breathing fire and did make the Australian batting really uncomfortable through the Test.
Steve Smith who once again played brilliantly was hit by a sharp Archer bouncer and had to retire. He was struck on the neck just below the left ear by a 92.4 mph bouncer and paused his innings on 80. After a 40 min break and few medical checks, the former captain was back on the field and played a beautiful knock of 92 in 161 deliveries which include 14 fours.
Steve Smith has reclaimed the No.2 spot in MRF Tyres ICC Test Rankings for Batsmen.
Jofra Archer ended with five wickets in the match to cap off a successful debut. However, the 2nd Ashes test ended drawn. And Australia leads the series with 1-0.
Meanwhile, the Twitter world was blown away by Smith's bravery.
'Steve Smith is likely to feel concussion symptoms for at least a week and he should not return until they have fully gone away'

Concussion specialist Dr @sam_barke provides an expert opinion on the Australian's injury https://t.co/W1esfU4TlC pic.twitter.com/m8TP0QTgKN

— Times Sport (@TimesSport) August 19, 2019
Steve Smith: Australia batsman endangered himself by continuing to bat, brain injury charity claims https://t.co/sk9ZmQodtf #SPORT pic.twitter.com/hzW9vQ8nWq

— Brummie Steve (@Brummie_Steve) August 19, 2019
Steve Smith is extra special . Another outstanding innings. #Ashes19

— Mohammad Kaif (@MohammadKaif) August 17, 2019
I get the pantomime of @stevesmith49 arrival to the crease and the booing but please stop booing once he plays with great skill,courage and incredible discipline !!! he deserves a standing ovation for that innings … #Ashes #Lords

— Michael Vaughan (@MichaelVaughan) August 17, 2019
Brave and courageous batting. #ashes

— Isa Guha (@isaguha) August 17, 2019
Blimey, @stevesmith49 is back out. Incredible.

— Gary Lineker (@GaryLineker) August 17, 2019
Sorry you cannot boo Smith after being hit and coming back on!! Are they F🤬 kidding #Ashes

— Lisa Sthalekar (@sthalekar93) August 17, 2019
Gutsiest batting I've seen in a long time. Take a bow @stevesmith49 #Ashes #Lords pic.twitter.com/xlw8SV0fhA

— Piers Morgan (@piersmorgan) August 17, 2019
This is serious test cricket !! Archer vs Smith.

— Nasser Hussain (@nassercricket) August 17, 2019
🔥🔥🔥🔥🔥

— Carlos Brathwaite (@TridentSportsX) August 17, 2019
A battered, bruised and brave Steve Smith falls eight runs short of the first player to post three straight #Ashes tons in 72 years.

One leave too many, but one more miraculous knock.

A week out from Ess v Coll, as Bucks would say, shame on anyone who booed a champion. pic.twitter.com/Q5cgLpytpt

— Sam Landsberger 🗯 (@SamLandsberger) August 17, 2019
If the amount of respect could be calculated, Steve Smith has probably gained more than what he had lost. What a player! #Ashes19

— Sagar (@sagarcasm) August 17, 2019
A standing ovation for Steve Smith, good gesture from the Lord's crowd. He deserved every bit of that.

— Johns (@CricCrazyJohns) August 17, 2019
Steve Smith is probably in the form of his life. Got hit by Archer's ferocious bouncer… he came back again. Exhibiting warrior-like qualities. And he's booed by the Lord's crowd. People who're privileged to watch the game at the Home of Cricket could behave better!#EngvAus

— Sarang Bhalerao (@bhaleraosarang) August 17, 2019