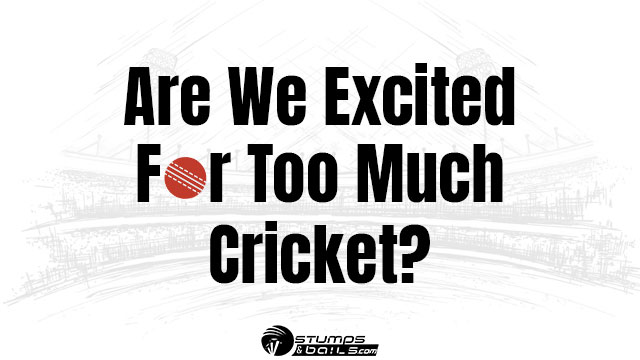 This IPL we saw a lot of records being broken. Almost every other day we hear headlines about most sixes, most catches, most wickets, etc in the season. All that seems fair, as by now these are the records but I think we must acknowledge that this has been the longest IPL season we have ever had! The earlier seasons of IPL used to have somewhere around 58-64 matches while the latest season has 74 matches. Even though the number of matches played per team remained the same but since the number of teams increased it raised the tally by 14 matches. Which in itself is one-third of the earlier tournament. Given that so many matches are being played, it is fair that such records are bound to be broken. Are We Excited For Too Much Cricket?
This also brings to notice the amount of engagement the players have throughout the year. If we were to take an example of team India's schedule for the year 2022. The team started its year in South Africa for a long a month and a half series. Not even after a ten days break, they played West Indies and Srilanka at home which lasted till the mid of March. Within 10 days we saw the commencement of the Indian Premier League which has almost all the national players participating in full capacity as they lead their respective teams. As soon as the IPL ends, we have South Africa visiting home, followed by India's tour to Ireland and England in July. This is not the end, as from there team will directly go to the Caribbean Islands to play West Indies for ODI and T20 series. Although this gives plenty of opportunities for the board to try and test different combinations and have a team that is ready for the T20 World Cup that is to be played in October, it also raises concern about players and how ready are we to be a constant audience.
Earlier to IPL 2022, we saw many leading players around the world taking their names off the Mega Auction to avoid the Bio Bubble stress. The names include, Ben Stokes, Mitchell Starc, Adam Milne, Alex Hales, Jason Roy among others who have been vocal about how exhaustive the bio-bubble has been and how difficult it is for them to play cricket non-stop without visiting their family and friends for weeks. It is not just the Team India but all the most of the busier Cricket playing nations have the same scenario where they are playing incessant cricket.
The T20 format that may seem to be shorter and provides instant gratification by giving quick results, but as viewers of the game are we aware of how much we are consuming and if it is becoming a culture to keep the audience engaged and make revenues through ads. This is an argument we might not want to dive into at this moment because it is probably a beginning and we are not sure about how it develops further. It is barely about the consumers but about the players and game and the commercial nature of it. A lot of questions to ask but no one to answer there is always some match to keep us away from thinking about them.