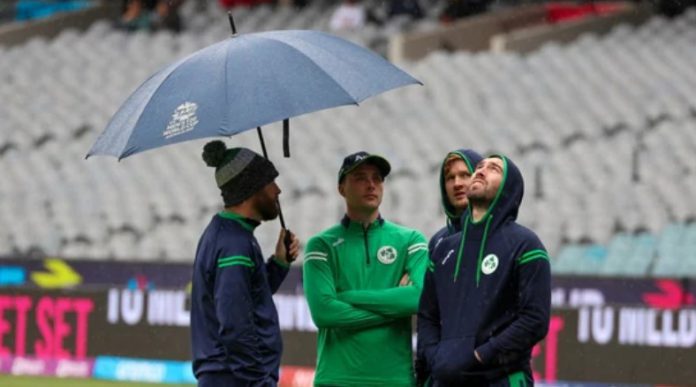 The ICC Men's T20 World Cup match between Afghanistan and Ireland was officially called off without a ball being thrown on Friday. Due to Melbourne's rainy weather, the match is abandoned without a ball being bowled.
In preparation for Friday's doubleheader, ground workers kept the MCG covered and the pitch covered for the majority of the day. Just after 4:30 p.m. (local time), the game was called off, with Afghanistan and Ireland each earning one point to maintain their chances of making it to the semifinals.
With three points after three games, Ireland rises to second position in Group 1, while Afghanistan stays in sixth place with two Super 12 games left.
What Captains Said:
Afghanistan Captain
Mohammad Nabi, Afghanistan Captain talked about players' disappointment as they could not play at the G. They did not play their first match against NZ because of weather and the same things repeats today. They are at the bottom of the table with 1 loss and 2 abandoned matches at 2 points.
He said, "Most of the players are disappointed, not having played on such a fantastic ground. Rashid and I have played but others haven't but weather is not in our control. So we have to accept it. We look forward to the future games and hope to win. The preparation, coming in, was good. We looked to rectify our mistakes and were looking forward to today but it didn't happen."
"We made a plan to put runs on the board to allow our spinners to defend it. In the first game, we saw our mistakes and wanted to learn it. We watched Zimbabwe – Pakistan, they played well and fought till the last ball. All teams are trying their best. From last five years, Rashid and I have played Big Bash. We've talked to team-mates about how to play in Australia."
Ireland Captain
Andy Balbirnie, the Ireland Captain said that he is "Very disappointing. We'd played good cricket and were looking forward to this. Can't do much about the weather. We struggled with the West Indies facing Sri Lanka. We tried to back up the win, unlike before, after the England game and turn up today but couldn't."
Talking about what is next, he said, "We will fly up tomorrow. It'll be like a different country up in Brisbane. We want to push the champions. Lots of things happening, so it's difficult. After the last time, (On texts from home after the last game) They always text when there are wins but none when there aren't but hopefully the support will grow in the future."
IRE VS AFG: What's next?
Ireland moves up to No. 2 on the Points Table due to the match's outcome. Afghanistan has had two games in a row called off. Despite having two points, they are at the bottom of the standings as a result of their defeat by England. Due to their lack of a victory, they are behind Australia. Australia is supposed to play England here later in the day, but according on the forecasts, that game could also be cancelled due to rain.